• learning • learning activities • reading • school breaks • student success
While school breaks provide a well-deserved opportunity for relaxation and fun, it's also crucial to maintain a balance that keeps your child's educational progress on track. Here are a few tips to engage with learning during any school break: Set Aside Regular Reading Time: Encourage your child to explore different books. Set aside dedicated reading time each day, allowing them to choose books that capture their interest. Reading not only enhances vocabulary and comprehension but also fosters imagination and creativity. Discover Learning Opportunities in Various Activities: Random activities can be rich with learning opportunities. Whether it's a trip to the museum, a...
---
• back to school • Black children • learning activities • parent communication • parent-teacher-conference • routines • student performance • student success
The 2023-2024 school year is around the corner and the baby you birthed 11ish years ago is about to enter a new chapter. We all know that middle school is a different beast. There are so many changes that occur between 11 and 13 that can be overwhelming for your child.  To have a smooth transition, it's best to encourage your child to embrace change. Children often travel with the same group of kids from Kindergarten to 5th grade, so they get comfortable because 1. they know everyone and 2. the environment becomes a safe zone. Middle school shakes things...
---
• back to school • Black children • parent communication • parent support • parent-teacher-conference • student success
Establishing a strong partnership with your child's teachers is instrumental in supporting their academic success. Open and effective communication, coupled with proactive parent involvement, can make a significant difference in your child's learning journey. Here are some strategies to foster a productive relationship: Introduce yourself early: At the start of the school year, take the opportunity to introduce yourself to your child's teachers. Share relevant information about your child's strengths, challenges, and any specific concerns you may have. This helps the teachers better understand your child's needs. Attend parent-teacher conferences: Make it a priority to attend parent-teacher conferences or virtual...
---
• benefits of summer tutoring • Black children • learning • learning activities • math skills • parent support • reading tutor • school breaks • student performance • student success • summer activities • summer break • summer slump
When school is out for any break, especially summer break,  you will always hear, "mommmm, I'm thirsty. I'm bored. I'm hungry… AGAIN." After having your kids in school for 8 hours a day for 10 months, you may not know how to occupy idle time. As we've told you before, the summertime is the BEST time for your child to enhance their skills (academic and life skills). 
Here are FIVE simple activities your child can do (and if you have time, join in with them)
---
• Black children • Black educators • Black excellence • math tutor • math tutoring • mentorship • minority youth • tutoring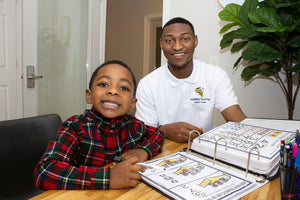 Do you realize that there are not a lot of BLACK male educators? It's easy to get caught up in the news articles about what Black men aren't doing, but let's highlight the WORK that is done behind the scenes! Studies show that black male teachers typically spend 5.4 hours outside of regular class time mentoring or counseling students.